Angela Meryl is a veteran stuntwoman with almost 2 decades of work, as well as an actor. Year after year, she reaps rewards of acknowledgment including a historical two-time, Taurus Award nomination for her performance in Quentin Turentino's blockbuster– Kill Bill, where she comes crashing through a glass table in the opening scene, as well as a Taurus Award for "Best Overall Stunt By A Woman," for the movie Obsessed (2009). In a 2010 appearance on The Oprah Winfrey Show, she jumped from the studio rooftop before she sat down, one on one, with Oprah Winfrey for a candid talk about her life as a stunt woman.
Angela Meryl doubles for a cadre of A-list actresses in Hollywood including Halle Berry, Beyonce Knowles, Vivica Foxx, Vanessa Williams, Victoria Rowell, Sanaa Lathan, Gabrielle Union, Naomi Harris and Nicole Ari Parker to name a few.
Angela Meryl has performed in many noteworthy television shows including Grey's Anatomy, The Young & the Restless, C.S.I, The Wire, Law & Order SVU and All My Children.
"Meryl's career highlights include crashing and flipping ambulances, plunging into the depths of New York's Hudson River, smashing through glass tables, crashing down massive flights of stairs, dangling from a helicopter in mid-air and more."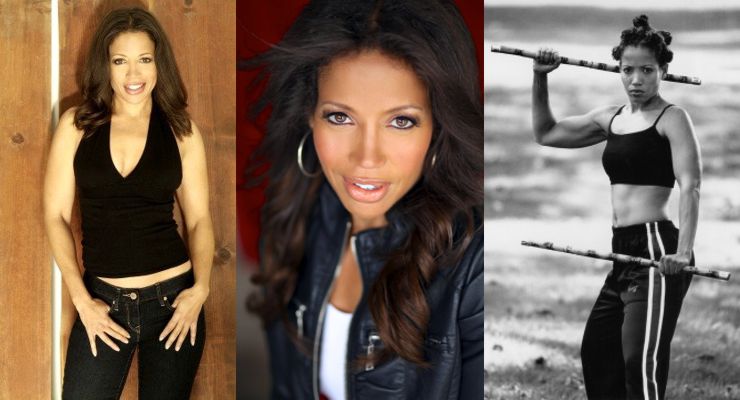 As a martial artist she trains diligently to maintain optimum fitness and stamina for daily living. "I still have a personal instructor, Marcus Salgado (who was also Wesley Snipes primary martial arts instructor) and we work on forms, we work on weapons, and we work on combinations, punches, kicks and stuff like that." she says, I still run, I do yoga, I swim, I hike and I play with my daughter." For the advancement of her professional career Meryl studies habitually with some of Hollywood's top acting coaches and in stunt training facilities in order to remain on the cutting edge of the ever evolving entertainment business.
Following the spring season of of 2012, which she spent in the country of Turkey, working on the blockbuster smash, Skyfall, Angela Meryl took on the new title of "author," with the release of book, Stunts: The How to Handbook: Secrets from an Award Winning Hollywood Stunt Woman. Angela's book is a tried and proven "How To" guide for men and women interested in beginning or advancing a successful career in Hollywood as professionally stunt performers.
Meryl is a former model and make-up artist from Willingboro, New Jersey. She was born in Philadelphia (German Town).
Angela Meryl on Ricki Lake