Award winning, veteran stuntwoman, Angela Meryl, has written a tried and proven "How To" guide called Stunts: The How To Handbook. The book was written for men and women interested in beginning or advancing a successful professional stunt career in Hollywood. When not jumping off roof tops for people like Oprah Winfrey, Meryl is known to double such A-list beauties as Beyonce, Halle Berry, Vivica A. Fox, Rihanna and more.
Reviews
I followed everything in Stunts: The How To Handbook to a T, and just months later, I've booked 2 stunt jobs, and I've been complimented by all the stunt coordinators and veteran stunties about my skills and professionalism. I've also been complimented about how prepared I am. I got everything that I would need in my stunt bag from the list in the book, and I was indeed ready for everything that happened on set. It's hard to get people to tell industry "secrets" that work, but Angela Meryl did just that! From the art of the hustle, to training, to set etiquette, she helped to prepare me for everything that might be involved in a stunt job, and I'm grateful. I can now call myself a stuntwoman. By Jazzy Ellis
After reading Stunts: The How To Handbook, I'm reminded of a song by the Staple Singers called "I'll Take You There" because that is exactly what Angela Meryl does in this book! She takes you from how she got in the stunt business to begin with, (By being the only one on a set that had a valid driver's license), to the thoughts that were running through her mind when she performed the legendary "Fall" off a four story building to then appear before the "Legend" herself, Oprah Winfrey!
Little did I know that was nowhere near how high she has jumped from before. Try a 110 stories!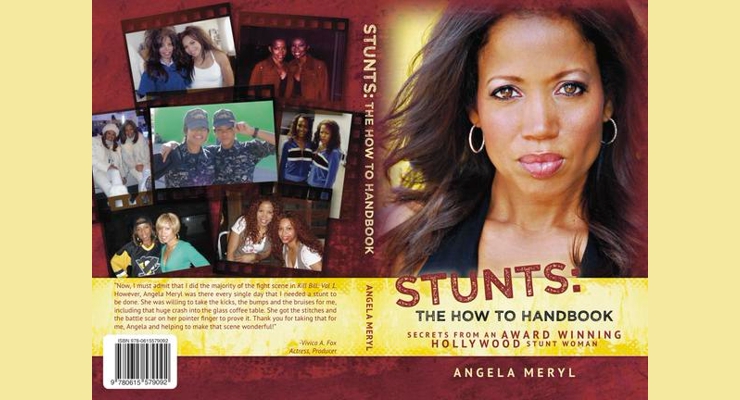 The great thing about Stunts: The How To Handbook is Angela lays out with her personal feelings included, how anyone who is interested in this line of work (And has some basic skills and a willingness to broaden them), can be a success at it.
The gear you'll need, how and where to meet people in the business and most importantly, how and where you can go to get the training you will need to broaden your chances of success, even down to your resume's, marketing yourself, portfolios and really, leaves no stone unturned.
On a personal note, I met Angela when I was younger and I knew she was star material even then. I had no idea years later that I'd watched her without knowing it in so many of the movies I'd seen.
Anyway, when I was younger my idea of a stunt person was Evel Knievel, perhaps that's because the "Greats" that perform the actual stunts are really not seen. This provides a behind the scenes look at what stunt people do (And what she's done which will amaze you) that I was totally unaware of and although it's a dangerous profession, she spells out all the precautions that need to be taken as well as if it's beyond your skill set, how you have to be honest about that.
In today's world of extreme sports and the things I see on line that I don't want my kids to see, for fear of them trying it, I think this book should be in all the libraries across the country, High Schools and colleges so those that have that "Thrill Seeking" mind set can learn from one of the best how do the incredible, safely or as safely as possible. ~ Kudos to you Angela!
Wonderfully written book, incredible life you have led and I too expect to see you starring as an "Action Hero" in front" of the cameras for all to see very soon! ~ Chase Von, Author of Pink, Blue and Green, Your Chance to Hear the Last Panther Speak and Dream Reachers One and Two with co author Betty Dravis.