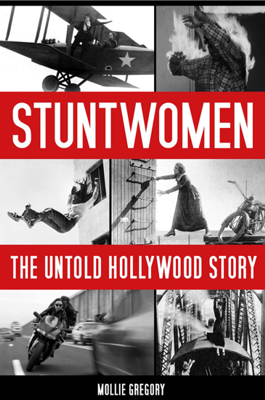 For decades, stuntwomen have faced institutional discrimination, unequal pay, and sexual harassment even as they jumped from speeding trains and raced horse-drawn carriages away from burning buildings. Stuntwomen: The Untold Hollywood Story features sixty-five interviews, showcasing the absorbing stories and uncommon courage of women who make their living planning and performing action-packed sequences that keep viewers' hearts racing.
It was women who traded punches in knockdown brawls, crashed biplanes through barns, and raced to the rescue in fast cars. They add suspense and drama to the story, portraying the swimmer stalked by the menacing shark, the heroine dangling twenty feet below a soaring hot air balloon, or the woman leaping nine feet over a wall to escape a dog attack. Only an expert can make such feats of daring look easy, and stuntwomen with the skills to perform―and survive―great moments of action in movies have been hitting their mark in Hollywood since the beginning of film.
In Stuntwomen: The Untold Hollywood Story, Mollie Gregory presents the first history of stuntwomen in the film industry from the silent era to the twenty-first century. In the early years of motion pictures, women were highly involved in all aspects of film production, but they were marginalized as movies became popular, and more important, profitable. Capable stuntwomen were replaced by men in wigs, and very few worked between the 1930s and 1960s. As late as the 1990s, men wore wigs and women's clothes to double as actresses, and were even "painted down" for some performances, while men and women of color were regularly denied stunt work.
Editorial Reviews "This is a joyous, intense book: Gregory is bracingly up front about the outright sexism that has dogged professional stuntwomen almost from the beginningBut Gregory, who interviewed dozens of stuntwomen of all ages, focuses on much more than injustices and legal battles. What comes through most strongly is the joy these women take from their work."―New York Times
"While Stuntwomen: The Untold Hollywood Story fits comfortably on the shelf of any film history buff, it also provides essential relevance to those interested in feminism, American social/culture studies, and even contemporary law. Mollie Gregory has done a splendid job"―Mel Neuhaus, film writer, Examiner.com
"Stuntwomen, a history of American stuntwomen from silent films up through the movies of the present, is an exhaustively researched, comprehensive volume. Gregory's book fills a void in film history about this interesting, often overlooked, and vital cog in the film industry."―Sheila Benson, former chief film critic for the Los Angeles Times and writer for the National Society of Film Critics
"Mollie Gregory clearly knows her subject inside out, and writes about it vividly and excitingly."―Kevin Brownlow, filmmaker and film historian
"This book aims to uncover just how bad the institutionalised sexism of Hollywood studios was for stuntwomen who were often overlooked in favour of men in wigs."―Wow 247
"Smart, thorough, and well researched. . . . Stuntwomen covers the film industry's most daring ladies and their feats from silent era [to present day]."―Los Angeles Magazine
"This chronicle is long overdue and Gregory seems to have found the right people to help tell the tale."―Leonard Maltin, Leonard Maltin's Movie Crazy – Holiday Book Roundup
"Documentary filmmaker and author Mollie Gregory writes an in-depth account of the stuntwomen who have performed on the big screen and television…to give readers a close view of the exciting and dangerous world these women love to face on a daily basis."―Shelf Awareness
"In her engaging and enlightening book, Gregory digs into this little known corner of Hollywood history and gives voice to the women who have risked their lives for a few (perilous) moments on the big screen. A fascinating look at a risky profession."―Becky Krystal, Washington Post
"Gregory has peeled the lid off a rich subject. There's no other book like this out there."―Film Comment
"A compelling look at a group still marginalized by Hollywood at large today, and threatened by the increasing reliance on CGI, Stuntwomen is a story of women kicking the shadows away and standing in the spotlight!"―Cinema Sentries
About the Author
Mollie Gregory is the author of Women Who Run the Show: How a Brilliant and Creative New Generation of Women Stormed Hollywood, 1973–2000.