12 Week Live Action Actors Seminar
Where: Los Angeles, CA 90016
When: April 28, 2019 for 12 Consecutive Weeks (Minus Holidays)
Can't start on the above date, fill in contact form at the bottom of this page to let us know about your interest.
Class Limit: 20 Participants
Time: Beginner Class meets from 5:00pm – 7:00pm
Time: Intermediate Class meets from 7:00pm to 9:00pm (Invitation Only)
Each person will work on camera and will have their work screened at the graduation ceremony at The Martial Arts History Museum in Burbank, California.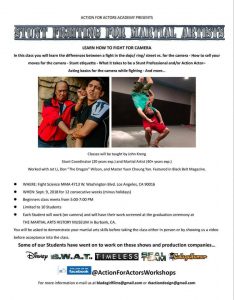 Are you prepared for your next action role?
Want to be the next action star or be a more marketable actor?
Learn the basics of film fighting in our Action Actors Seminar.
Often times a director or producer will assume you already know how to perform action. Don't come to set unprepared! You can easily get hurt, even if it is a simple stunt!
Class Curriculum
This Action Actors Seminar which teach you what film schools and acting classes do not teach!
You will be learning:
Set Safety
How to keep yourself, fellow actors, stunt professionals, and the crew safe.
The questions to ask to make sure proper insurance is in place. Your rights as a employee in California and how that effects action.
Understanding The Stunt Department
What is a stunt as per SAG-AFTRA guidelines.
How to work with the stunt coordinator, stunt double(s) and stunt team
What is expected from you as an Actor when performing Action.
What is a Stunt
definition of a stunt per SAG-AFTRA guidelines
What to do if your asked to do a Stunt.
When to ask for adjustments
Being Prepared For The Set
Smart things to bring on set when performing action
Why being 110% honest about your skills will keep you safe and having fun.
How to sell a hit, reactions and basic falls for camera
Stylizing moves- Learn to throw basic kicks and punches that sell effectively for camera
Developing a "Soft Hand"- Learn how to throw intensity behind your techniques but keeping your partner safe
Camera Awareness
Camera Angles
Learn how to act when performing action
Filling in "Dead Space"- What to do with yourself when not fighting on camera
Working with props, costumes, white-out contact lenses, etc.
Things to be aware of while acting and fighting on camera
Telling a story with a fight scene
What makes a great fight scene
Knowing the difference between a safe and unsafe set?
Basic use of weapons (stick, knife, etc.) in fight scenes
Understand the difference between a real and a choreographed fight
Additional Tips:
Why do certain actors make great action stars and some do not … and much more!
Class Info
Dates: 12 weeks
Times: Sunday nights from 5:00- 7:00 (Beginners)
Where: Los Angeles, CA 90016 (Location will be given upon class sign up).
What To Bring
Loose fitting clothes enough to perform physical activities without any restriction. Sweat pants and t-shirt should be fine.
Towel
Water bottle (it's important to stay hydrated)
Cell phone w/ video capabilities or dedicated video camera. Please make sure your cell phone has extra storage space to record your fight scenes.
Please Note:
Students will be video recording one another fight scenes to learn camera awareness and angles, so they can understand and learn what they need to improve on.
Before class begins, everyone will be signing a Privacy Agreement. Only footage that everyone in the video agrees on will be allowed to be released. This is important because we want potential employers to see everyone's best work.
We will take a group photo at the end of each training session for those that need to market their training.
No previous martial arts, fighting, or stage combat experience is required to participate. A certificate of completion will be given out to each participant with perfect attendance.
Tuition Fee:
$525.00 for 12 weeks (Payment arrangements can be made and we take credit cards, cash, and Paypal)
Tuition Fee includes :
The "Fight Design" Seminar So you can learn the structure of a film fight and important information needed to put together an action film. This is important to know as a filmmaker and performer.
A 30 min. private evaluation (to be scheduled between student and instructors).
Cash, Credit Cards, and Paypal accepted.
No refunds will be given for cancellations or missed classes.
To Register:
Please email rkactiondesign@gmail.com the following information.
Student's name
Mailing address
State the method of payment
Email billing address if using Paypal
Any physical limitations or health issues the staff needs to know before training
Please note!!!
Absolutely no guests or visitors will be allowed in the class sessions unless previously approved by the instructors.
Instructors Bios:
John Kreng
John Kreng the CEO of a LA based Production company, as well as a 2nd Unit Director, Stunt/Fight Coordinator, Action Film Historian, and Author of the textbook "Fight Choreography: The Art of Non- Verbal Dialogue." As a stunt professional he has worked with Jet Li, Tsui Hark, David Carradine, Steven Spielberg, Roger Corman, Don "The Dragon" Wilson, and Yuen Cheung Yen, to name a few.
John has 40+ years experience as a martial artist and 17 years experience as a Stunt/Fight Coordinator. He has been featured in Black Belt, Martial Arts Training, Inside Karate, Karate Review, Impact (UK), Backstage West, and Make Up Artist Magazines.
Past clients include The Los Angeles Times, The Weinstein Co., College Humor, SNK, TH-Q, FX Channel, Epix, A&E, Spike, Telemundo, Subaru, TBS, and Telemundo.
John was a Producer, Stunt/Fight Coordinator, and one of the lead actors on BATTLE B-BOY. He can be currently seen in Paramount's THE SCOUTS GUIDE TO THE ZOMBIE APOCALYPSE.
Melissa Tracy
Melissa Tracy is an CEO of an Independent production company in Los Angeles. Actress/Action Actress/Writer/Director/Producer/ 2nd Unit director/Fight/Stunt Coordinator. Melissa was seen last week on the big screen at the Chinese Mann Theaters and theaters throughout the US in the feature film Martrys as the creature acting and performing a number of stunts including numerous fight and weapon scenes.
As a director and Action/2nd unit director, the projects she has worked on have won awards at the Action on Film Festival and the Buffalo Film Festival and have been featured and shown at Cannes. Melissa's Action Project Best Projection was distributed in 2006 through Spike TV. Her TV Adventure Series Hook Up is currently in negotiations for 2017 season.
Melissa is currently packaging two films and one currently in post on a TV show. She is preparing to direct and Action direct films this summer and fall!,
Melissa has stunt coordinated a number of films and TV pilots, plus music video for Andrew Lane (Backstreet boys).
Melissa has also produced a number of action projects.
Melissa has worked as a action actor and stunt professional for over 10 years. She has a background in different martial arts including Savate, Kali, Ninjitsu, JKD, boxing, kickboxing, western and eastern sword play and extensive weapons experience. She has 30 years of dance and acting. Melissa graduated with a BA from California State University Fullerton.
Download Action For Actors Flyer
[everest_form id="2725"]