Cynthia Rothrock was born on March 8, 1957 in Wilmington, Delaware. She is a duel citizen of the United States and Hong Kong. She is an actress and producer, known for Undefeatable (1993), Honor and Glory (1993) and Above the Law (1986).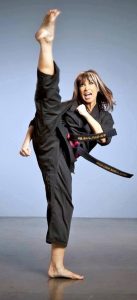 Cynthia began training in Tang Soo Do when she was 13 years old and she has earned 5 Black Belts in Korean and Chinese martial arts including a 8th degree Black Belt in the art of Tang Soo Do in 2016 and Black Belts or the equivalent in Tae Kwon Do, Wushu, Eagle Claw Kung Fu, and Northern Shaolin Kung Fu. She was a five time undefeated World Karate Champion in Forms and Weapons from 1981 to 1985 and she was the first woman to be on the cover of a martial arts magazine and she appeared on both "Inside Kung Fu" and "Black Belt" magazines.
Cynthia Rothrock plays kick-ass heroines in her films. She uses her diverse martial arts skills to create characters who never back down and she has created three separate film franchises China O'Brien, Lady Dragon, Rage and Honor and Tiger Claws. Her most frequent co-stars are Don "The Dragon" Wilson and Richard Norton. She is currently shooting the Peculiar Perils of Penelope Peacock.
Artemis Women in Action Film Festival honored Cynthia Rothrock with the Artemis Action Lifetime Achievement Award for a film career, spanning nearly four decades, dedicated to portraying tough as nails, kick-ass female characters.